When to use this feature:
Responsible Party Self-inspection: Use this feature when you'd like to assign specific checklists to a "Restricted" Responsible Party for use when doing Self-inspections. For example, if you want your concrete contractor(s) to do self-inspections, you can assign them the concrete checklists you want them to use. 
Reduced List of Responsible Parties to Select for a Particular Inspection Task: Use this feature when you want to select a Trade/Sub Contractor as the Primary Responsible Party for a particular scope of work, and you want to narrow the list to just a few "approved" contractors.
Instructions
1. Go to: SETUP >Responsible Party Setup Process on the menu bar.
2. Select the "Go To Advanced View" button on the Process Menu.
4. Select the Responsible Party by clicking the circle at the beginning of the row.
Responsible Parties are alphabetized by Description. You can reverse sort by clicking the "Description" column header. Scroll down the page to find the Party.
Use the "Search" field in the upper right hand corner to narrow your choices.
Use the "Filter" drop-down to display "All," "Active Only," or "Inactive Only."

5. Select "Checklists" in the Process Menu.
6. Click the "+Add" button.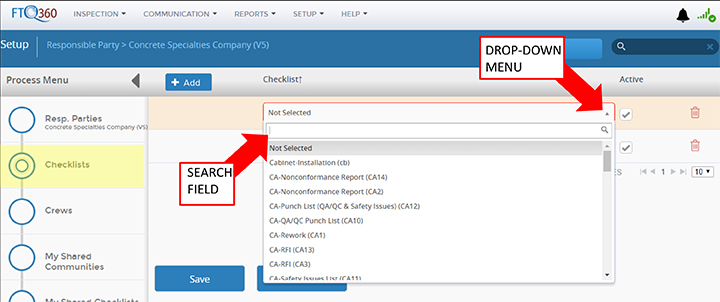 7. Checklist: Use the drop-down menu to select a "Checklist."
Checklists are listed alphabetically in the drop-down menu. Type keywords in the search field to filter your choices.
8. Click the "Save" button.
Note: you can also assign Checklists to Responsible Parties from the Responsible Party Setup Process screen.