ITP stands for Inspection and Test Plan. You can create an individual plan for an individual Phase or Lot, or you can create a template and select the same template for multiple Phases/lots. FTQ360 ITPs let you plan and track the inspections and tests that need to be done for a house, apartment unit or commercial or industrial project phase.

Instructions
1. Go to: SETUP > Project/Community Setup Process.
2. Click on the "Go to Advanced View" button on the Process Menu.
3. Select the Project/Community by clicking on the radial circle at the beginning of the row.
Projects/Communities are alphabetized by Description. You can reverse the sort by clicking the "Description" column header.
You can also use the search field in the upper right hand corner or the drop-down "Filter" to the left. The drop-down allows you to view "All," "Active Only," or "Inactive Only.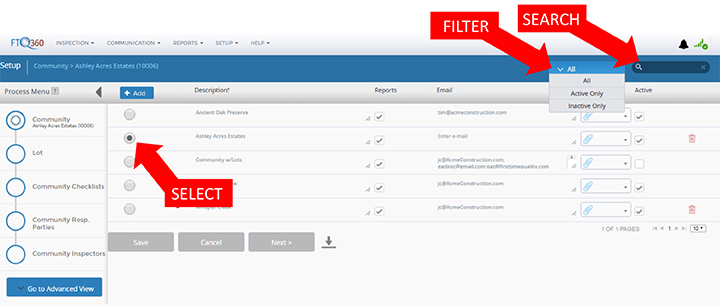 4. Select "Phase/Lot" in the Process Menu.
5. Select the Template under "Plan" for any Phase or Lot in the Project. Any time you add or change a Plan, you'll be asked if you want to proceed. This is because when changing Plans, all changes that you've made previously will be lost and unrecoverable.
6. Click "Save" to save your changes.