You can customize the body of the email using the custom email text.
Instructions
1. Go to Reports > Activate Reports
2. Click on "Email Customization & Additional Settings" on the Process Menu.
3. You can change the "Email Subject Line" and write the body of the email.

A. Custom Email Subject Line - Type the Subject Line to appear to the reports.
B. Custom Email Body

- Type the message to be included on the reports.
C. Format Buttons

- Use these buttons to format (bold, italicize, center, etc.) the text in the body of the email

.
D. Report Styles for Immediate Email Notifications

- Use the drop down menu to choose the "Classic style" or "Modern X Style" for immediate email notifications.
E. Show Corrective Action Notes in Modern "X" Style Inspection Reports

- Click the box to include inspector observations and Corrective Action (CA) notes on reports. If the box is not checked, the notes are hidden. This gives you the ability to hide corrective action notes when they are used for private internal communications. This is an account-wide setting.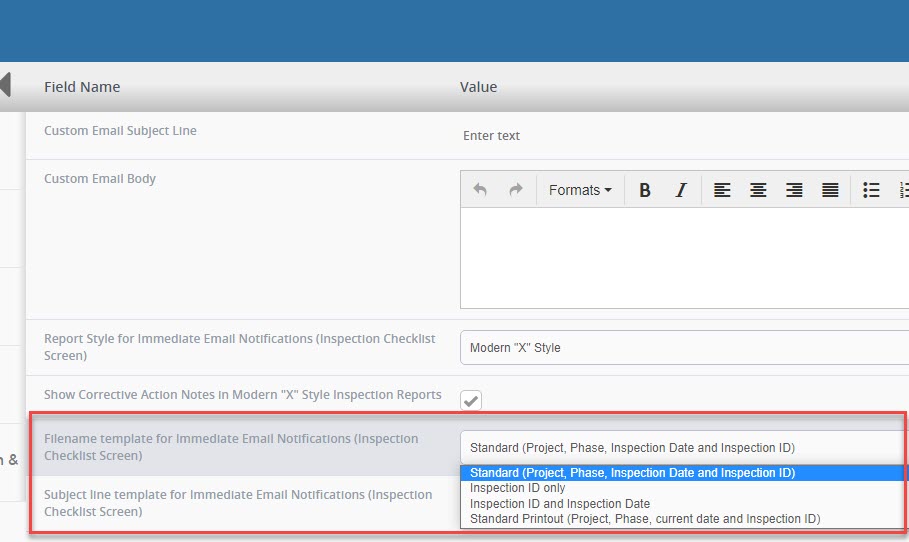 4. Filename template for Immediate Email Notifications: Use the dropdown menu to select the information and order to name the Inspection PDF file.
5. Subject line template for Immediate Email Notifications: On email notifications, choose a default subject line format that has the important information your recipients need to see at a glance. Do you have format you'd like to see? Please email support@FTQ360.com with your suggestion.
6. Click "Save" at the bottom of the screen.