Instructions
1. Go to: Setup > Administration > Account Management."

2. Select "Manage Subscriptions" from the Process Menu. 

3. Subscription: At the top of the screen, You can confirm your subscription type, number of current users, free users, and your account's user limit.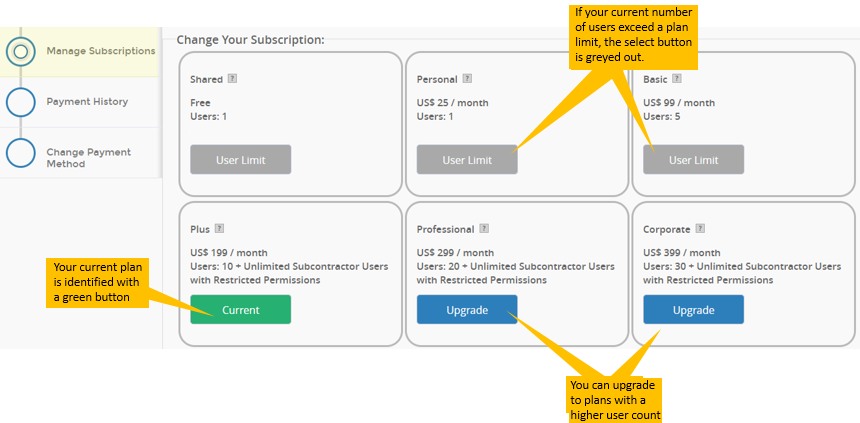 4. Change Your Subscription: This section allows you to increase or decrease your allowable number of users by changing your subscription plan.
Shared - 1 User, Free account associated with a paid account
Personal - 1 User, Standard reports
Basic - 5 Users, Selectable reports
Basic Plus - 10 Users, Unlimited Subcontractor Users with Restricted Permissions
Professional -  20 Users, Unlimited Subcontractor Users with Restricted Permissions
Corporate - 30 Users, Unlimited Subcontractor Users with Restricted Permissions
Corporate Plus - 40 Users, Unlimited Subcontractor Users with Restricted Permissions
Enterprise 50 - 50 Users, Unlimited Subcontractor Users with Restricted Permissions
Enterprise 60 - 60 Users, Unlimited Subcontractor Users with Restricted Permissions
Enterprise 70 - 70 Users, Unlimited Subcontractor Users with Restricted Permissions
Enterprise 80 - 80 Users, Unlimited Subcontractor Users with Restricted Permissions
Enterprise 90 - 90 Users, Unlimited Subcontractor Users with Restricted Permissions
Enterprise 100 - 100 Users, Unlimited Subcontractor Users with Restricted Permissions

5. Cancel Your Account: You can cancel your account by clicking the "Cancel" button at the bottom of the screen. The unused portion of your paid subscription is automatically refunded to your card,