Use Project Setup screens when giving multiple users/inspectors access to individual projects and/or phases. Use the User Setup screens when giving individual users/inspectors access to multiple projects. For Project Inspector settings, go to Setup > Project Setup Process. Select each Project and then select "Project Inspectors" on the left-hand Process Menu. If you'd like to set Phase Access, select the Project, then the Phase, then "Phase Inspectors" on the left-hand Process Menu.
NEW!
Changes to automatic setting of Inspector Permissions when adding new projects/phases. You are affected only if you manually control project inspector permissions. (See step 11 for more details.)
If you take manual control of project inspector permissions, FTQ360 will no longer automatically give inspection permissions to all users when adding new projects or phases. This prevents data security issues related to automatically giving users inadvertent project access or unintentionally giving view-only users inspection privileges which affects paid user-inspector counts.
You can give all users inspection permissions on a project with one checkbox on the project inspectors setup screen. If your inspection permissions are more complex contact FTQ360 support for more tips.

Instructions
---
1. Go to: SETUP > Project Setup Process.
2. Select the Project by clicking on the circle at the beginning of the row.
Projects/Communities are alphabetized by Description. You can reverse the sort by clicking the "Description" column header.
You can also use the search field in the upper right hand corner or the drop-down "Filter" to the left. The drop-down allows you to view "All," "Active Only," or "Inactive Only."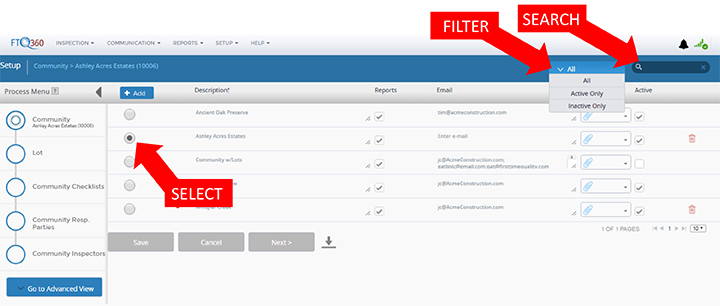 3. Select "Project Inspectors" in the left-hand Process Menu.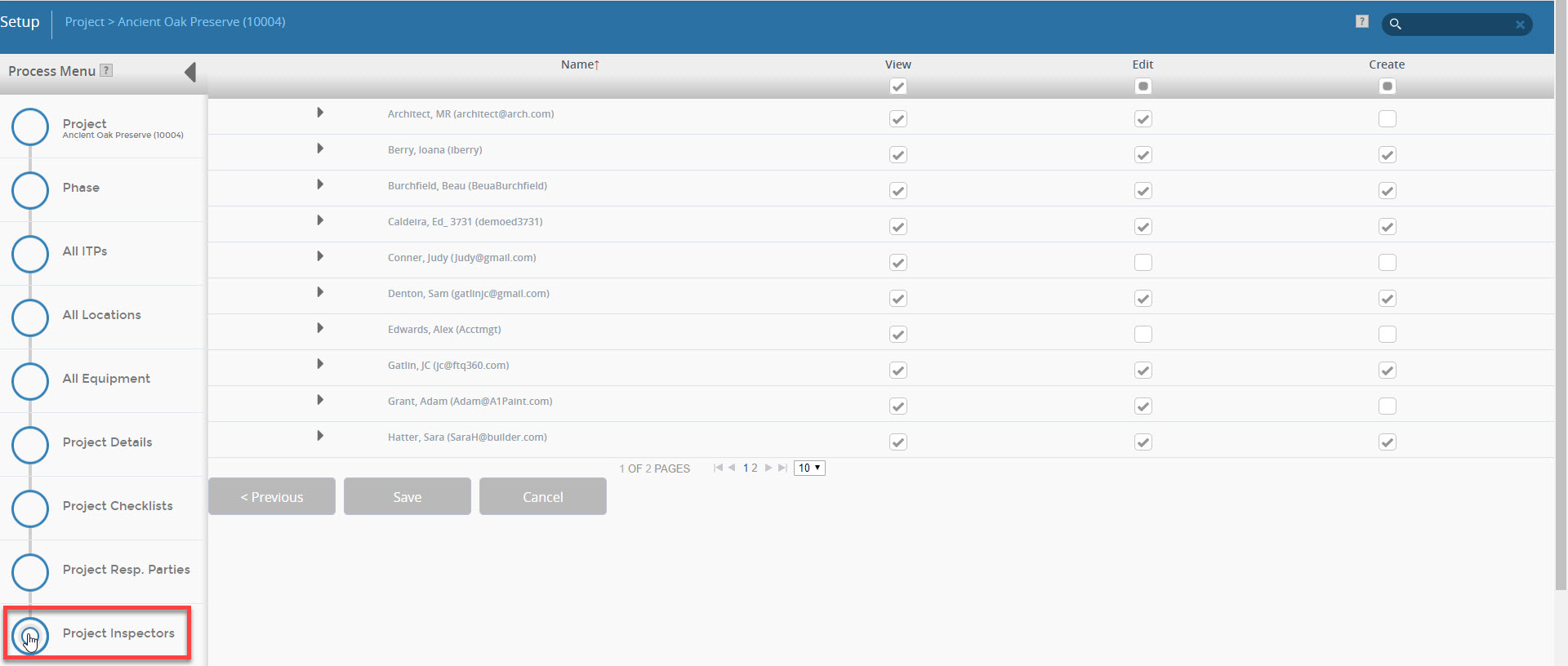 4. This will bring up a list of Inspectors. Here, you can control which inspectors can view, edit, and create inspections.

A

- View: Check if the user should have access to this project
B

- Edit: Check if the user should be able to edit inspections in this project; including changing FTQ evaluation buttons, adding photos, typing notes, etc.
C

- Create: Check if the user should be able to initiate inspections in this project

5. Click the "Save" button to make the Project/Community available to the selected Inspectors.
IS A USER MISSING FROM THE INSPECTOR LIST? To add an Inspector to the list, refer to the "User Setup Process."