Instructions
1. Go to: SETUP > Checklist Sharing Library."
2. Search, Sort or Filter Checklists 
Search: Type a keyword into the search field and press <Enter> to quickly find specific checklists.
Sort: Click on a column header to place the checklists in a specific order. You can reverse the order by clicking on the arrow to the right of the column header.
Filter: Click on the blue "All Trades" button to filter your search by a division of work. By default, the drop-down menu will display "All Trades." You can scroll down to find a specific work type, or use the search field to filter your search.

3. Preview a checklist by hovering your mouse over the black information icon.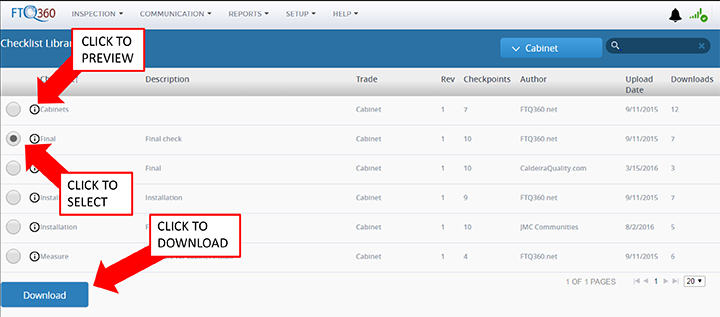 4. Select a checklist.
5. Download: Click the "Download" button.
6. Dialog box will pops-up. Rename the checklist or provide a new Checklist Code if desired.
7. Access the new checklist in your account checklist area. Go to Setup > Checklist Setup Process. For more information go to: Checklist Setup Process.