Take Videos in the new iOS app (v9.1)
Take videos right on the inspection screen. The procedure is just like taking a photo. When the camera opens, choose "Video", then review the video and crop using the smart slider– which is very useful to remove unnecessary footage of your feet 😉 from the beginning or end. Videos can be up to one minute long. Like photos, you can take a sequence of videos and/or photos, and the videos are GPS and time stamped. They can be viewed from the inspection screen or from PDF reports.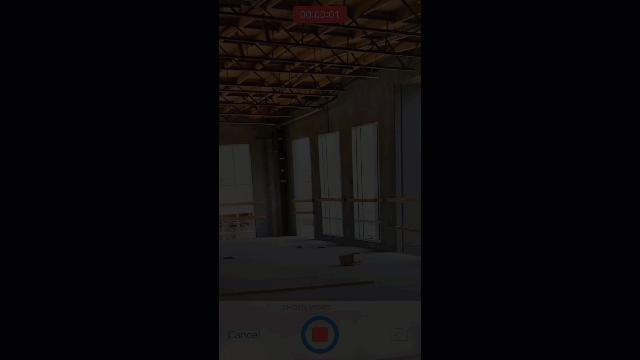 Copy and Paste Photos, Videos, and Files between checkpoints in the new iOS app (v9.1)
It may not seem like much until you realize that you have the freedom to take whatever photos or videos you need to take in the field even if you are not sure of the exact checkpoint they should go to. Or if you are inspecting in a harsh environment, you can just take a series of photos and move them to the proper position on the inspection report later. Just tap the thumbnail, copy, and then paste from the camera icon.
Jump to and from other apps with the new iOS app (v9.1)
Now when another app has a link to FTQ360.net it will open the FTQ360 app to view the inspection or open a screen. Also when FTQ360 attachments are a file type associated with another app, choosing to view the file will open the appropriate app. This is handy for using FTQ360 to store project files or URL links to files and quickly jumping to application of your choice for to view files, drawings, or documents.
Paste and Edit Screenshots from other apps with the new iOS app (v9.1)
Take a screenshot from whatever you are viewing on your device; another app viewing a specification, drawing, a screen from a measurement tool, or reading an email. Return to FTQ360 and tap the camera icon. The photo editor will open automatically so you can crop and mark up the screenshot, then save to the inspection.
Approval checkpoints: A New Type of Checkpoint
When inspection report reviews and approvals are part of your workflow, the new Approval Checkpoints are for you. They give you the ability to set up checklist templates with required approvals according to your workflow. Then during the inspection the approver is notified when the inspection is ready for their review and can reject or sign-off. Approval checkpoints can be added to any checklist template or dynamically added based on if-then logic formulas.