You can use Responsible Party Project screen to view and select which projects an individual Responsible Party is working on.
---
 Instructions
1. Go to: Setup > Responsible Party Setup Process.
2. Select the Responsible Party.
You can scroll down the page or use the Search Field in the upper right hand side of the screen.
Click the blue "All" button to filter choices by "Active only" or "Inactive only."
3.  - Select "Project" from the Process Menu on the left hand side of the screen. This will bring-up a list of checklists.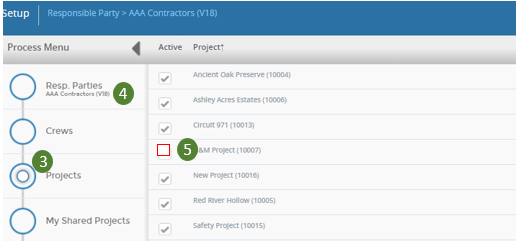 4. - The Responsible Party's name will appear under the "Resp. Parties" filter title on the Process Menu. 
5. - Deselect any Projects the Responsible Party should not have permission to access. By default, all Projects are selected.
6. - Click the "Save" button at the bottom of the page.