Checkpoint Comments
Comments is an important new feature that streamlines field communications. With it, you have the ability to involve any number of people in back and forth discussions surrounding resolution of an issue. Briefly, it works like this: You can add a comment to any checkpoint and mention another FTQ360 user. In less than 5 minutes they will automatically get an email with your comment and a link back to the inspection so they can reply back and add their own comment. You are notified of their reply in the same fashion. Comments are intended as informal communications, therefore they are NOT included in the inspection report Pdf printouts.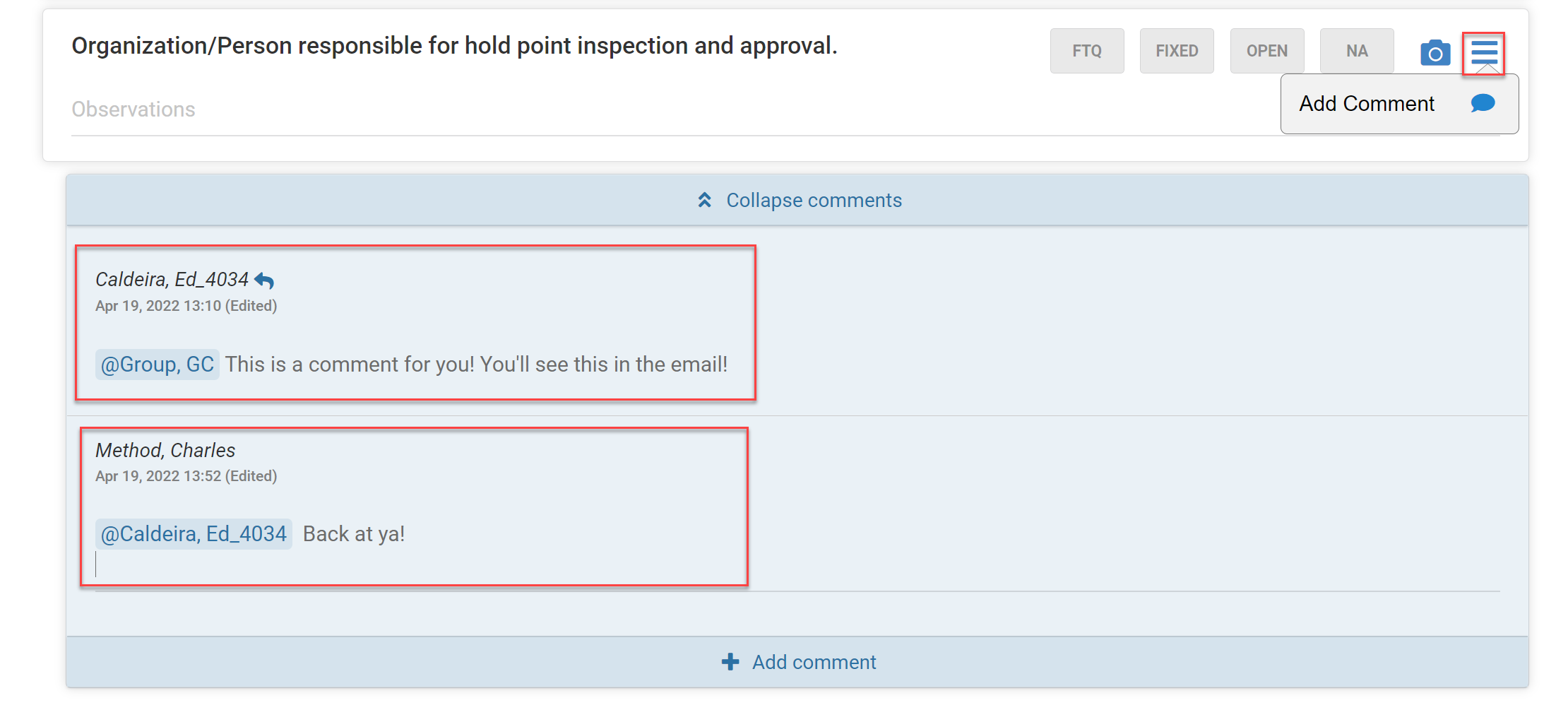 Schedule Data Queries
Just like the current performance and data reports, you can schedule your data queries to run on a schedule and automatically email you the Excel file! Save any standard or custom query with selected filters as a favorite. Choose the daily, weekly, or monthly schedule options and enter the email addresses that will receive the Excel file. This feature is useful automate workflows as well as automatically backing up FTQ360 data to project repository.

Security Update: Login one-device-at-a-time security enhancement
It is always good to know if someone else is using your FTQ360 login. If someone else logs in with your username, when you leave the screen you are on, FTQ360 will alert you to a possible security concern and ask you to login. Even if someone else logs in from another device it will not interrupt your work on the inspection screen and will still save your data to the server, as normal. It is only when you leave the inspection screen that you will see the alert message and be asked to login again. Change your password immediately if the alert was unexpected. This protocol is a security best practice widely implemented by software applications world-wide to combat hackers and protect your information.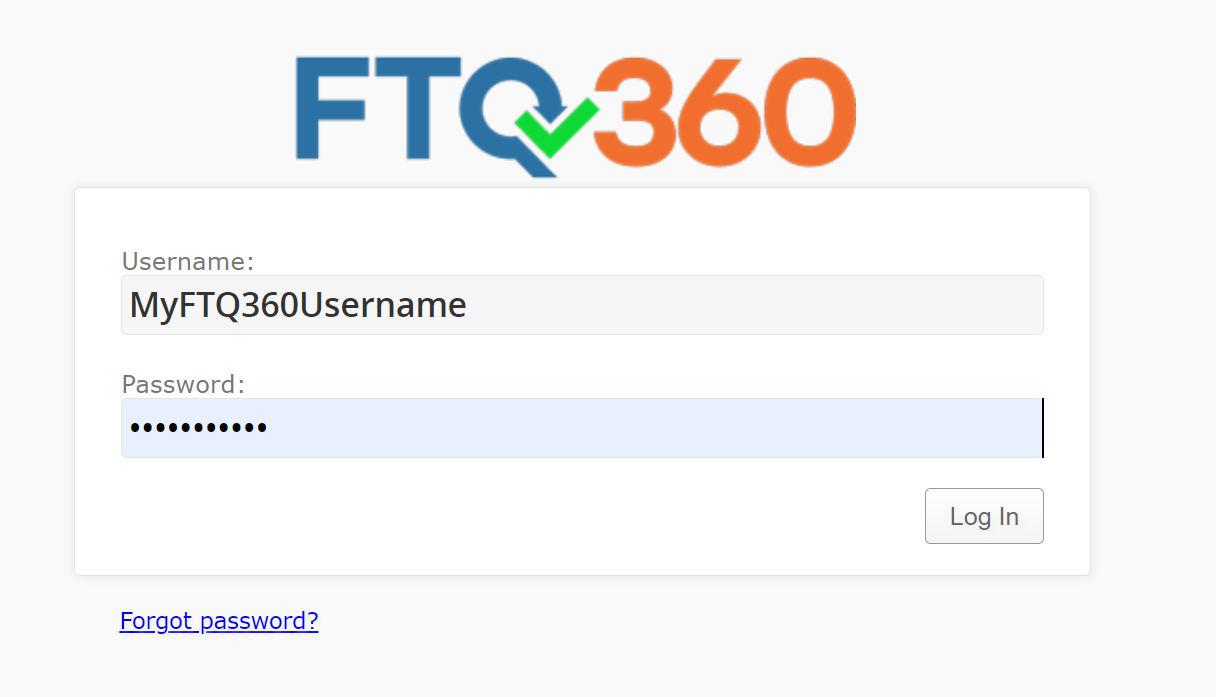 Email Triggers for Approval Checkpoints
Inspection approvers are notified via email that a checkpoint needs action from them when the R4R box is clicked.
Take Videos with New Android App Version 9.0
Take videos right on the inspection screen. The procedure is just like taking a photo. When the camera opens, choose "Video", then review the video and crop using the smart slider– which is very useful to remove unnecessary footage of your feet 😉 from the beginning or end. Videos can be up to one minute long. Like photos, you can take a sequence of videos and/or photos, and the videos are GPS and time stamped. They can be viewed from the inspection screen or from PDF reports. This is an improvement updated to the feature that was published earlier this year.
Click-Sort on Setup Selections
Sometimes you just need to sort on various columns to find what you need. Now this feature is implemented on all of the new setup access selection screens. Give this handy feature a try!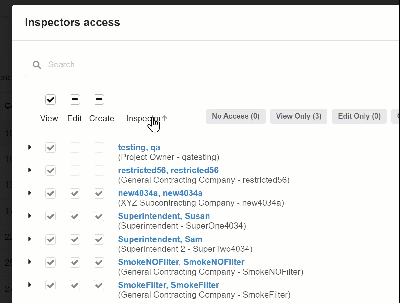 Screen-specific Help
FTQ360 help screens are legendary for their informative explanations of screens and reports. It is now simple and easy click the

to go directly to the help documentation related to the screen you are on.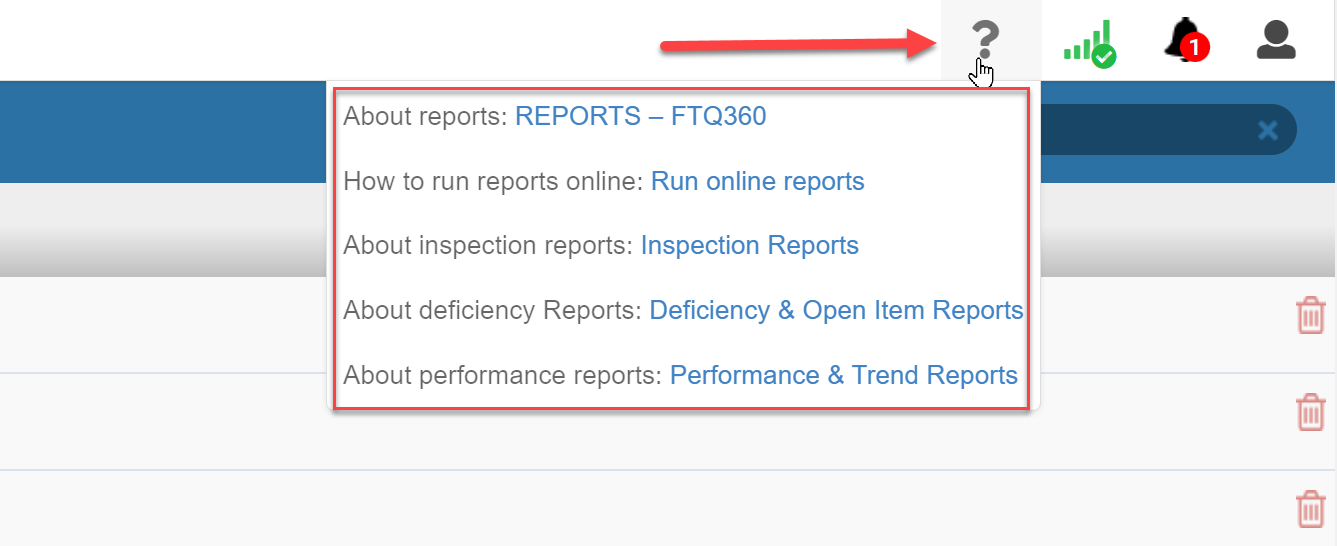 Other mentionable Improvements:
The inspection and test (ITP) detail screen fields are reordered and position the frequently used plans at the top of the screen.
There is an new set of "Information Functions" that can be used on the inspection screen to perform logic and calculations. For example ISBLANK or ISNUMBER can be used to validate entries or in if-then calculations.
The inspector of each checkpoint is recorded in the Activity Log. Now when several inspectors are involved with one inspection you are able to distinguish which checkpoints are inspected by whom. The information appears on on the deficiency listing screen and the Q1025 inspection checkpoint query.
The new project and checklist setup screens will automatically remove leading or trailing spaces and non-printing characters.
Refinements have been made to the drag and drop on the new setup screens to make operate smoother.
The account management screen has some text revisions to clarify the meaning of entry fields.