Pause the "Loading data" update when you log-in
Why wait even a few seconds for dictionaries to update when you already have what you need? To eliminate unnecessary waiting time for dictionary updates, a new feature allows you to pause updates for four hours. During the pause, click the orange refresh icon for an immediate update of pending items.
Directions: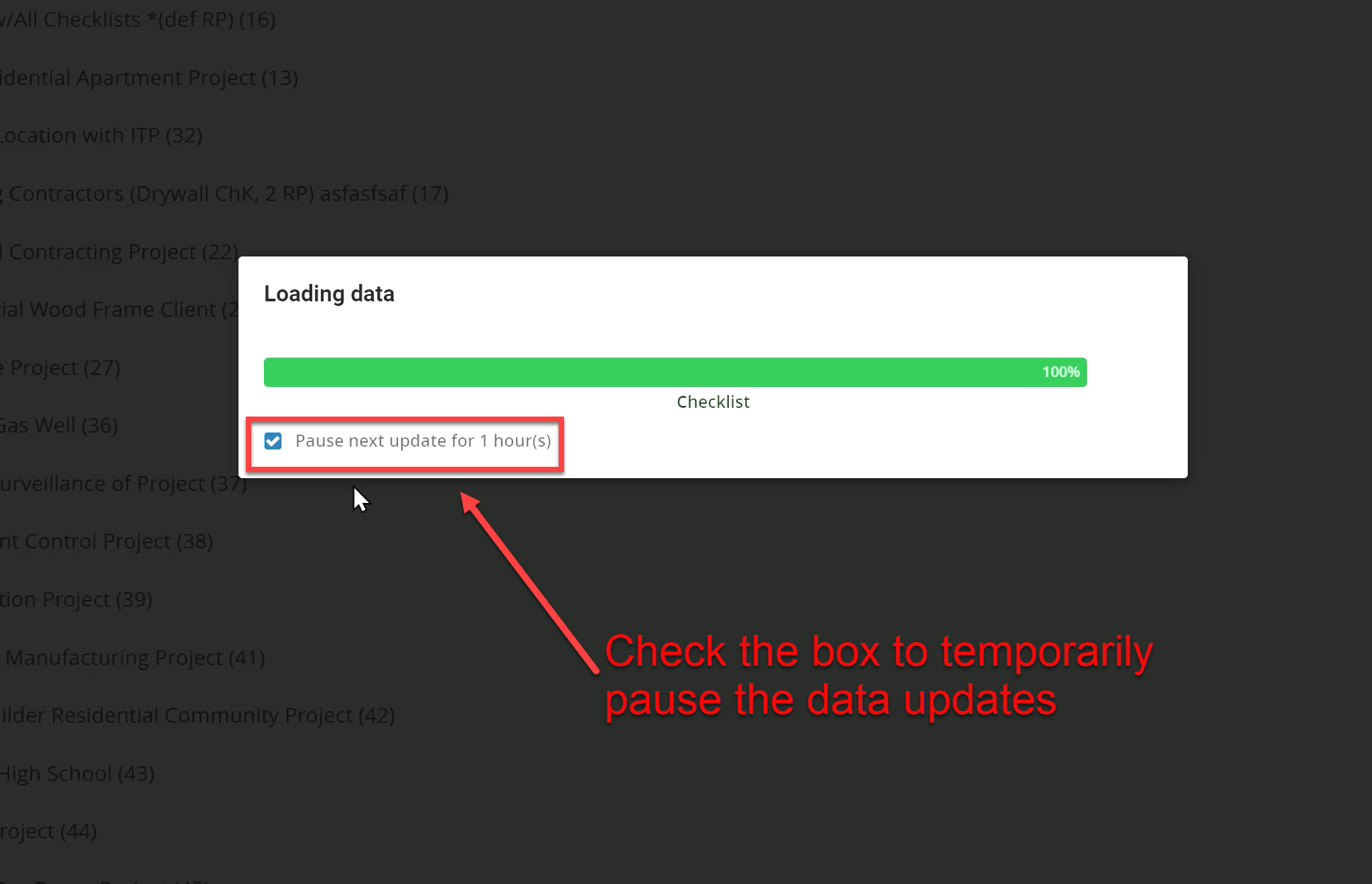 ---
Dashboard Update:
FTQ% included for Company Departments and Job Positions
With the Inspection Responsible Party panel enhancement on deficiency analysis dashboards, you have the ability to analyze the overall quality performance of company departments and job positions across projects. This feature allows you to analyze the first-time quality performance of project personnel responsible for delivering projects in compliance with the project requirements. It specifically focuses on deficiencies reported by QA Inspectors that field personnel reassigns to subcontractors.
Use Cases:
Homebuilders looking for an FTQ% for superintendents based on a Quality Manager's final QA inspection.
Directions: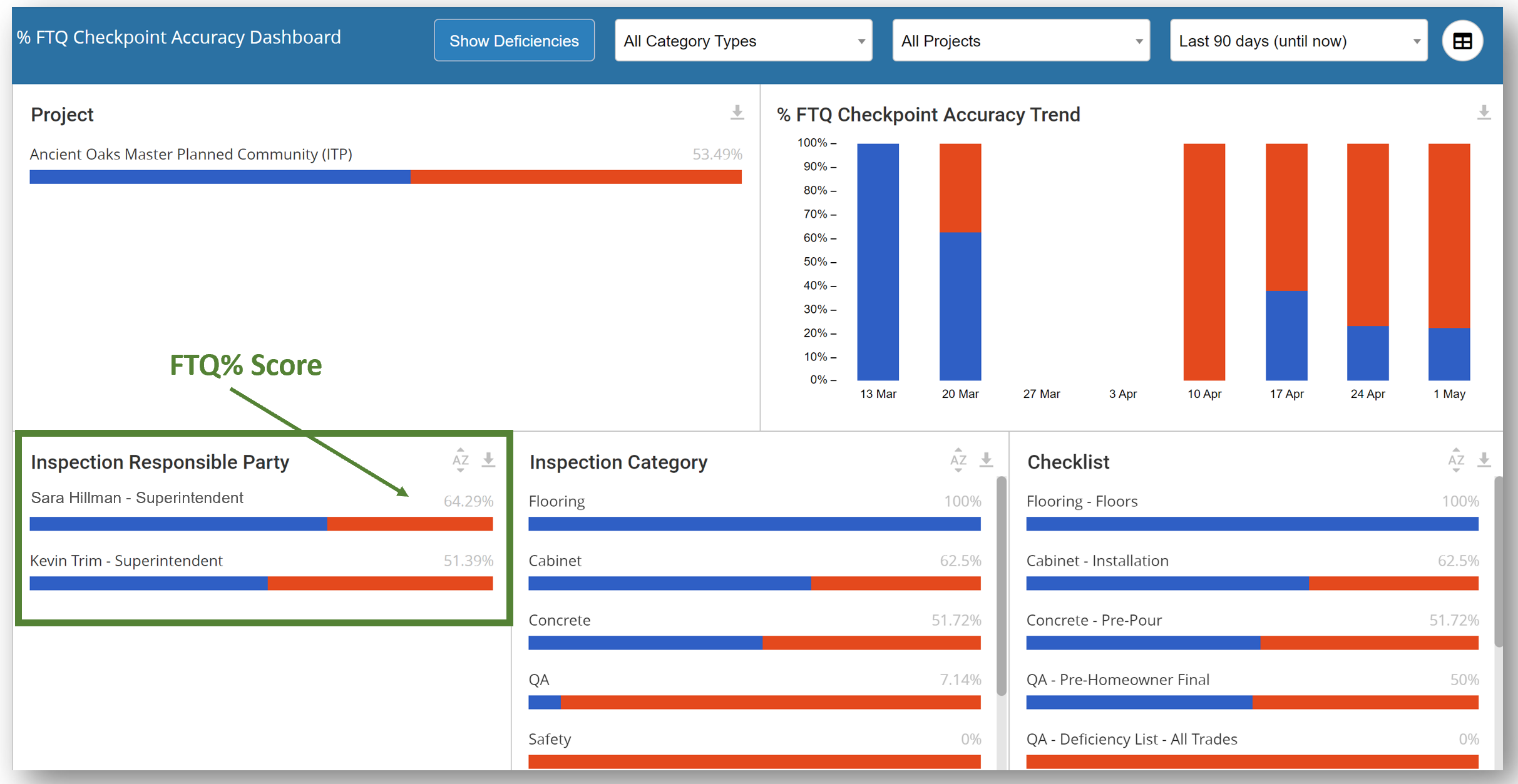 ---
Add GPS Positions:
Location Mapping of Deficiencies
A new feature allows you to locate deficiencies and view them on a map. This feature supports street maps and integrates seamlessly with BIM 3D drawing viewers. Inspectors can now precisely locate deficiencies with a single click, eliminating the need to open PDF drawing files. The experience is similar to zooming in on a Google Map, providing a more intuitive way to view the location. Stay tuned for additional mapping features in future updates!
Use Cases:
Project Manager needs to provide subcontractor with precise location of a deficiency
Directions: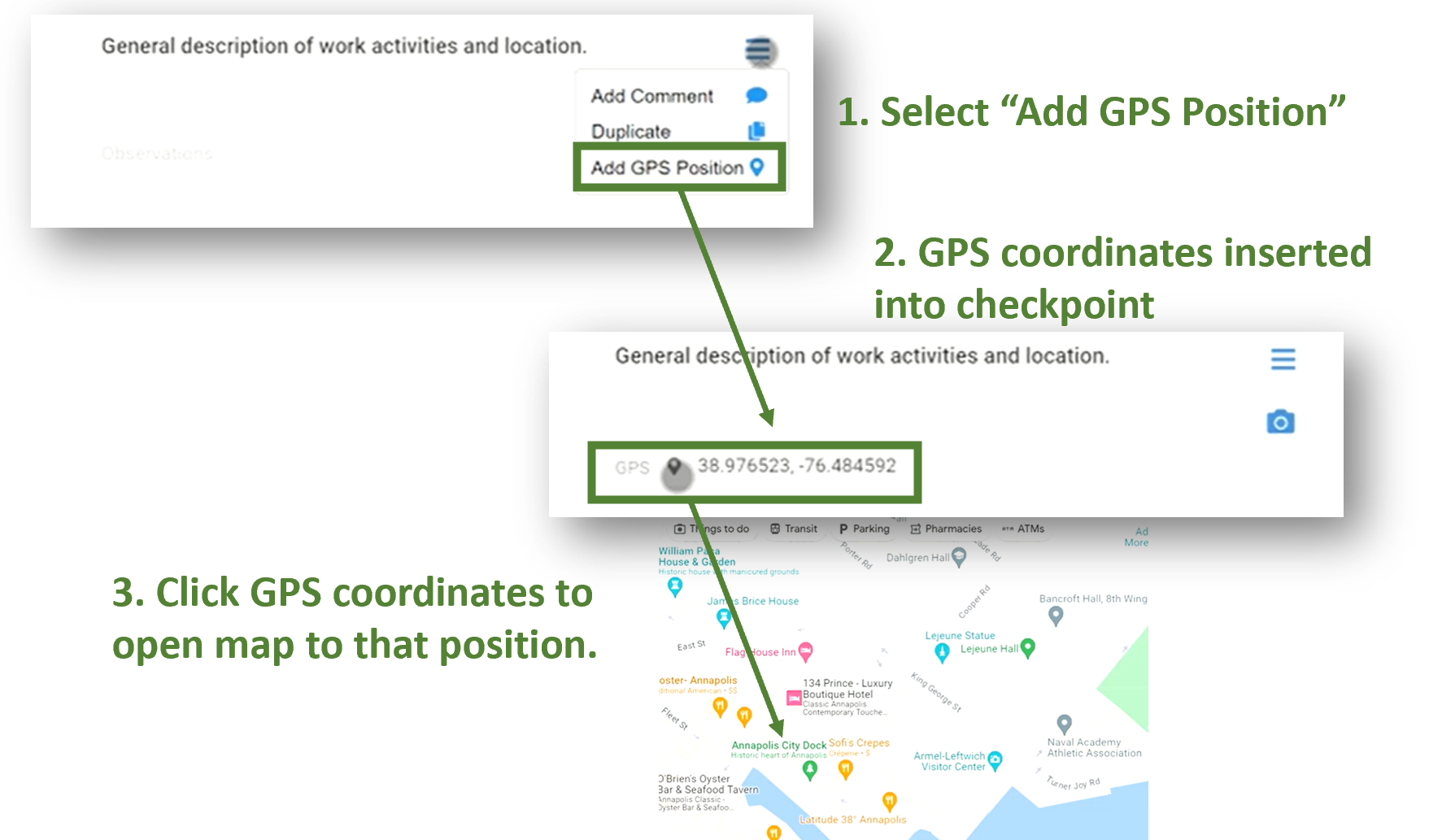 ---
Reason Code & Corrective Code Update:
Structured Classification of Deficiencies and and Safety Violations
When reporting a deficiency, you now have a searchable dialog box that allows you to select from structured lists of reason/corrective action codes on the inspection screen. This new feature enables structured reporting of deficiencies on punch list reports and proves useful for safety reporting of violations. Furthermore, you can configure different lists for different categories of checkpoints.
Use Cases:
Inspector needs to select a Reason Code from a long list
Reason Code has a longer description than just a few words
Directions:
---
200 New Construction Checklist Templates
Added to the 800+ FTQ360 Download Library
The FTQ360 Download Library now offers approximately 800 curated checklists that can be downloaded into your account. This vast selection empowers you to quickly establish your QAQC and Safety program for your projects. You can easily search the library and browse previews to find the checklists that suit your needs. Once downloaded, you can edit them to align with your specific project requirements and create your own company checklist library.
Directions: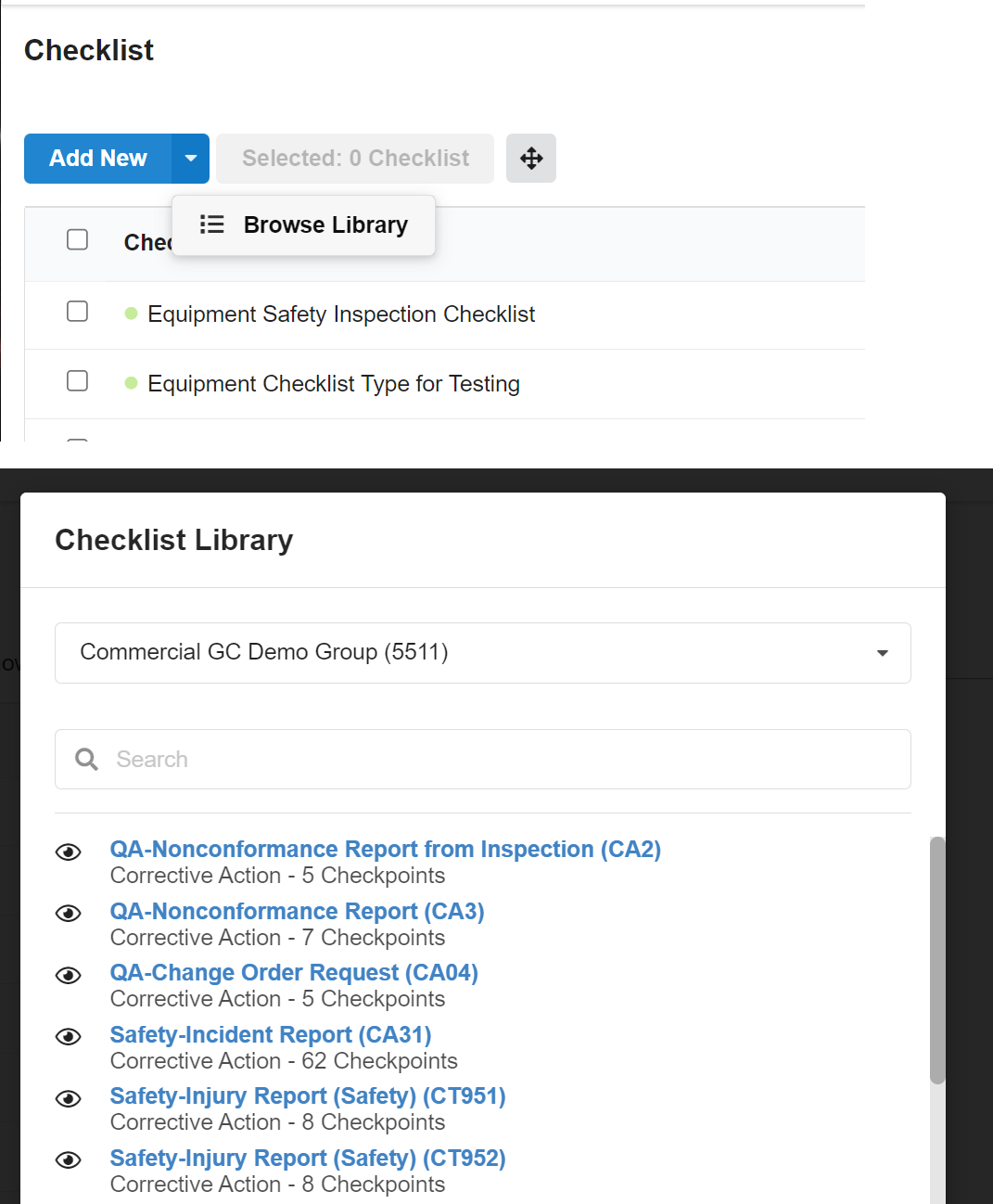 ---
Equipment Inspection Update:
Inspect Multiple Serialized Assets on One Inspection Report
There is a new feature that gives you the ability inspect multiple serial numbered assets on one inspection report. This is particularly helpful when you track serial numbers of equipment or assets and and typically inspect several of them during one inspection. Inspection reports show the equipment serial number inspected on each checkpoint. Data download queries provide a full history of equipment inspections for the life of the equipment.
Use Cases:
Foreman inspects multiple pieces of pipeline, each with individual serial numbers.

Quality Manager inspects an assembly of serialized components and wants to collect the data on a single inspection.
Directions:

---
Inspection and Deficiency List (Archive) Update:
Add International "Local Date" to Listing Grids
An optional "Local Date" gives the users the ability to see the date adjusted to the time zone of their device on the recent inspection and recent deficiency listing screens. In this way international inspectors can easily see their inspections by their own work day anywhere in the world. This presentation is specific to the user's device. The FTQ360 date-time data recording remains unchanged.
Use Cases:
Australian or Asian customer needs to view "local" date & time for the inspections on Inspection List Archive
Directions: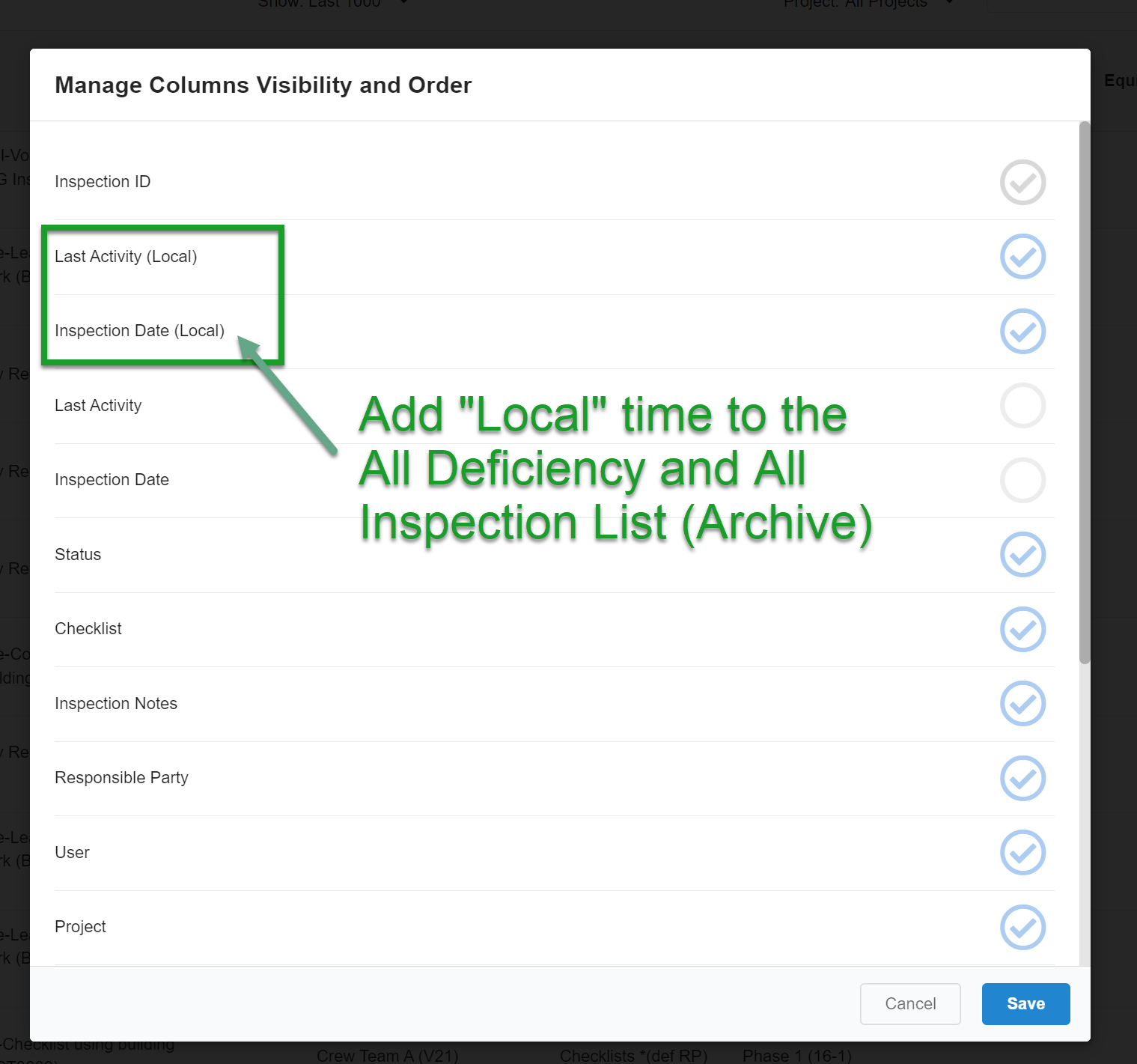 ---
Checklist Building Blocks
There's a new kind of checklist building block that you can use to generate variations of standardized checklist sections more easily. Let's say you crate a company library of standard building blocks consisting of groups of checkpoints for inspecting common project tasks. Then when you create project-specific checklists you incorporate building blocks as single line items and then supplement them with project-specific checkpoints. This is a way of keeping a consistent way of working for common inspection processes while accommodating the special needs of projects.. When starting a new inspection, the building blocks checkpoints are automatically inserted and appear as normal checkpoints. The great thing about this feature is that when you make changes to a building block, those changes show up in all new checklists that use it, without needing to update the templates.
Use Cases:
A QM wants to create a company library of standard building blocks that project QC personnel assemble into project-specific checklist templates. As a QM I can still analyze deficiencies across projects.
Instructions: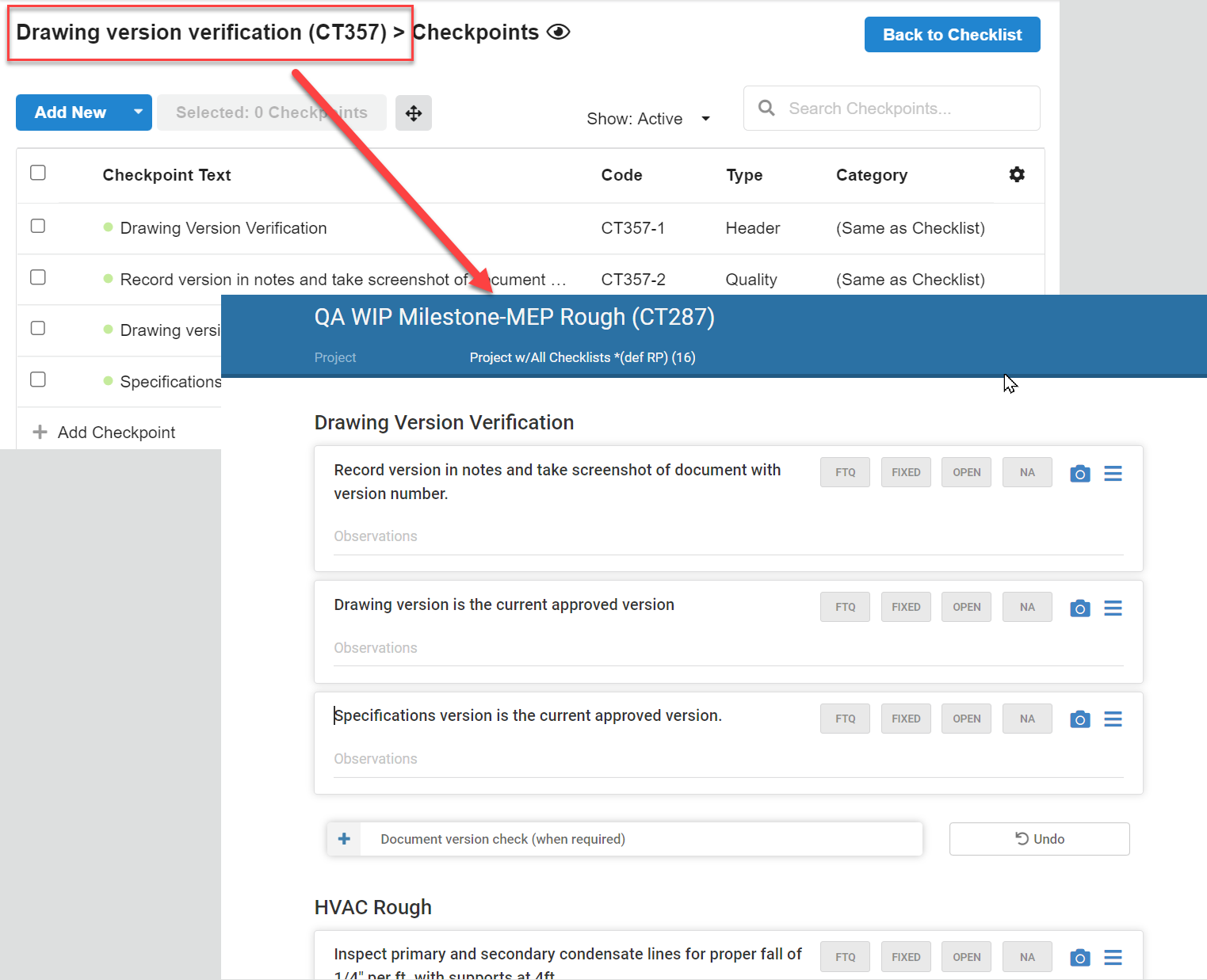 ---
Refined Inspection "Edit" Permissions
The ability for inspectors with 'edit-only' permissions to edit inspections and checkpoints inspected by others remains unchanged. This is complemented by an enhancement in our security features where the programming logic now further refines 'edit-only' permissions. This helps ensure that editors can't create new checklists or checkpoint entries that haven't been inspected by others. To enable users to initiate inspections of checkpoints, please ensure that the 'Create' permission is assigned to them.
Misc.
Use new Query Q1041 to exports the inspection and test plan. This is very useful including your FTQ360 ITP in project submittals. Some QA Managers will use this as a list of tasks to include in the project schedule that will be inspected.

The ITP line item reference number will appear on Inspection Reports when the inspection was performed to the plan.

Additional information appears on the report activation screens so it is easier to understand what each report does and how the automated reports will run.

There are new icons for files attached to inspection reports.

Now you easily view permissions inspectors have on inactive projects.

International characters are fully supported including searches throughout FTQ360 on inspections, listing tables, and setup screens.